2020 is definitely making it difficult to stay focused on your health and fitness. Between a global pandemic and now forest fires making the air quality hazardous, it's challenging to figure out where to go and what to do to get your workout in. Running, biking, hiking and walking outdoors have not been recommended for the last week. If you don't have access to fitness equipment, are you out of luck? If there's a will, there's always a way and mall walking could be your answer when outdoors is not an option.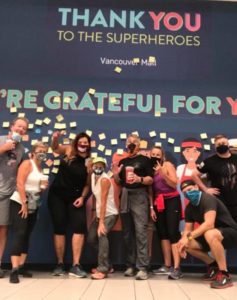 Depending on the mall in your community, a lap around the mall is easily equivalent to a lap around the track. If your mall is larger, you might be able to get a half to full mile per lap. At the Vancouver Mall, a lap including all the exit halls will get you close to a ½ mile.
To make your workout more challenging, you can include the stairs. For example, you could do the stairs at the start of each lap or to make it even more challenging, you could run the stairs every time you pass a set. Multiple repeats of stairs will drive up the intensity.
To make your workout more interesting, you could add shuffles and agility drills in between poles.
You could even add strength exercises to your workout. For example, you might do walking lunges down one exit lane. You could perform squats at each end. You could do bench pushups or tricep dips.