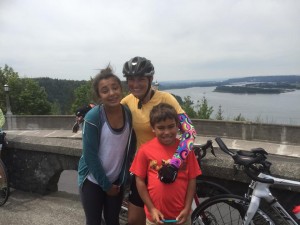 Out of school does not need to mean out of shape! It's typical at this time of year to struggle with trying to exercise with the kids home from school or trying to stick to a workout routine while at the summer cottage, the beach or out of town for summer holidays.
Many people decide to take a two month sabbatical and get back on track in the fall because they can't seem to find the time to get to a gym. Instead, let's get our kids involved and teach them to love an active and healthy lifestyle! The key is to make it fun for the kids! Bonus – it will make sure that all your fitness doesn't go to waste over the summer so you don't have to start from scratch in the fall!
Here's some tips for an active summer for the whole family when the kids are home from school:
Invite Friends
I learned a long time ago that if I want my kids to enjoy and not whine and complain during an active outing, I needed to make sure they brought a friend. It was a night and day difference to how the day went.
Don't forget to sign up to automatically receive my newest blog posts……right up here!
Get Out Into the Woods
It's true that if you allow kids to choose, they will gravitate to their cell phones and video games. It can be addicting! But if you force them to put away their gadgets, and take them out in the woods, at first they may resent it, but soon they will be exploring, laughing, running, and jumping. It's good for their souls! Read more on Out of School, Out of Shape?!…