What are the Best Exercises for a toned abs/abdominal region?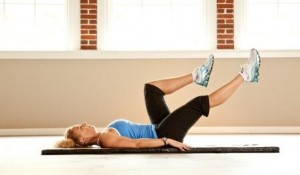 Spring has arrived and that means summer is just around the corner.  I'm sure that makes many of you just as happy as me!  It's also motivation for many of us to shed some of those winter layers and get into beach-body shape.  Desiring a toned, fit physique is normal and for many, the stomach region is a major problem area.  Abdominal crunches have become the gold standard of ab exercises, but they may not be doing as much as we think to give us the toned mid-section and strong torso we need to play sports, walk, lift or perform other daily activities.
The problem is in the movement.  In an abdominal crunch, we perform technically speaking, a forward flexion of the spine.  But a lot of us spend the entire day in a forward flexed position.  We sit forward at desks, sit forward at a computer, sit flexed to watch TV, sit flexed to drive, sit flexed at a table to eat… No wonder the typical posture of someone who ages is rounded forward in a "hunch" back posture.  Why would we want to strengthen our body in a direction that we really should be trying to move out of?  It makes sense that we'd want to try to counteract and minimize these forward forces.  I'm not suggesting that you shouldn't be doing any abdominal crunches.  But you should compliment these crunch exercises with more functional and appropriate movements such as the following exercises.  Keep this in mind –there is no perfect abdominal exercise.  A variety of different movements and exercises is best.  
Perform the following best exercises for toned abs 3-4 times per week!