No Excuses!
Maria Kang, a mother of 3, was recently inundated with negative comments after posting the following photo. Some people said it was "bullying" or "fat-shaming" and that her intent to motivate others actually back-fired.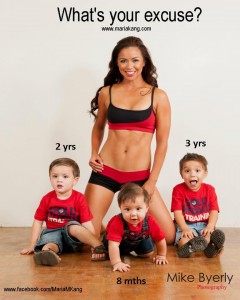 I can understand why the negative comments surfaced.  People don't like the prideful boasts that basically say "Look at me.  Look at how good I look even though I've got 3 kids under 3 years old. What's your problem? Get your act together?"  And a photo like this doesn't account for the fact that some people will never look like this no matter how hard they exercise and how disciplined they are so it may make people feel poorly about themselves even if they are doing all the right things.
But with all that said, there is some truth to what Maria is suggesting.
There will always be excuses that you can become victim to! 
There will always be someone with more kids than you that still finds the time to exercise and eat well.  There will always be someone who is busier than you…someone who travels more than you do…someone who has less money than you…someone who is older than you…someone who is in more pain than you…someone who is more out of shape than you…there will always be someone who is struggling with obstacles and excuses and yet, still figures it out.  They do what they need to do to be at their best!  So no matter what excuse you are using to convince yourself that you can't commit to exercise and healthy eating, sorry, you need to get over it and start taking action.  No more excuses! You deserve better than that!
Here's a list of some of the common excuse and how you can overcome them:
Not enough time:
If you have trouble finding time to exercise, you're not alone.  Read the rest of No Excuses!