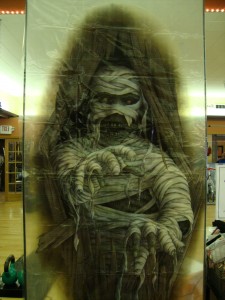 I was shopping at Target this weekend and my son was begging me to buy Halloween candy. One thing I've learned over the years, in this case, is that procrastination is the best approach to curbing the temptation to sneak a few pieces, wind up eating all the candy and being forced to re-purchase. Instead purchase your Halloween candy on Halloween day to avoid an excess consumption of calories days and weeks before the actual holiday.  If you do feel the need to get organized and buy your Halloween candy early, put it in the garage on the highest shelf or in the attic that you would need to use a ladder to get at. Or store it at your neighbor's house. Another idea is to purchase candy that you don't personally like so you'll be less likely to eat it!
Holiday weight gain seems to launch during Halloween with Thanksgiving and Christmas following shortly after so I thought I'd share a few other tips to manage Halloween and assure you maintain your fitness routine and healthy physique throughout the entire holiday season. Here's some tips to stay lean and fit starting with Halloween:
Eat Before You Trick or Treat:
If you have dinner before you head out to trick or treat, you'll be full and less likely to munch while you go.