About 25 years ago, I was dating a guy who was very involved in the sport of triathlon. I remember thinking there was no way I could ever do a triathlon because I wasn't a strong swimmer. One weekend he was participating in a triathlon so I decided to volunteer at the event. I remember handing out water at the aid station and seeing all these people of different ages, body shapes, fitness levels, some with physical ailments and disabilities and it completely inspired me.
That's how inspiration works – if you see someone else doing something, it makes you think "Hey, if they can do it, so can I!"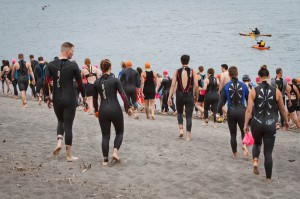 And that was the start of my love for the sport of triathlon.  I signed up for a swimming program, got a coach and learned how to swim. I'm still not a super-fast swimmer but I can swim for a very long time without feeling like I'm going to die! I did my first triathlon shortly after and I was hooked.  That summer I immersed myself in the triathlon community and did an event every weekend! I love the energy and surrounding myself with people who are committed, disciplined, determined, focused and reaching for their best. I'm a true believer in the statement "you are who you hang with" so if you want to be inspired then surround yourself with people who are inspirational and challenging themselves. Soon you will find yourself doing the same!
Don't forget to sign up to automatically receive my new blog posts….right up here! 
We regularly encourage our clients to volunteer at all different types of events because we know it will inspire them and cause them to step out of their comfort zone. Read the rest of Volunteer, and it will CHANGE YOU!