Strengthening your core is critical for optimal health.
If your core is strong (core strength), that strength radiates out to your extremities and you will be better able to stabilize and align your body, absorb and brace for any impact and move your body more efficiently and with better mechanics. It's important to mention that your core is not only your abs – but also includes your back and hips so to strengthen your core effectively you need to work the front, back and sides!
Try to perform the following exercises 2-3 days per week.
Tubing Trunk Rotation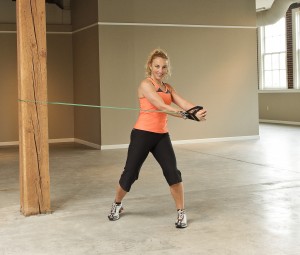 Anchor an exercise tube around a pole at about mid-body height.  Stand sideways to the pole holding the tube in both hands standing far enough so there is tension on the tube. Keep your abdominals contracted, maintain good posture and slowly pull the tube across your body. Perform 8-20 reps each side
Read the rest of Core Strength