Moms, Be careful what you say around your daughters!
I heard a conversation at a pool that went something like this. A young girl asked her mother why she wasn't swimming. The mother responded that she was too fat and needed to lose a lot of weight before she could even consider wearing a bathing suit. Wow! What kind of a message do you think that mother was sending to her daughter? The daughter could easily interpret that response to mean that a woman must be skinny in order to do the things she wants to do. She must be thin in order to be beautiful enough to be seen in public. She must be lean in order to be loved.
Do you realize that girls as young as 5 years are dieting?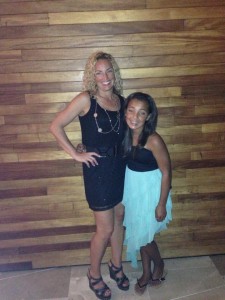 Where do you think they are getting the idea for the need to diet and lose weight? Sure media plays a big role but it's a lot closer to home than that! A young girl's mother is her most important role model. Values, principles and beliefs are instilled at such a young age and last a lifetime. If a young girl believes you have to be skin and bones to be attractive, she will struggle with her weight and body image for the rest of her life. Moms, think before you speak. If you comment on your thighs and your cellulite perhaps your daughter will start examining her own thighs more closely and determine she's not too happy with hers either! If you compare yourself to other women or models in a magazine, your daughter will start comparing as well. If you are always on some type of diet and then go on an all-out junk binge, your daughter will adopt the same practices. Moms – you can't think only about yourself anymore. Mimicking is how most young children learn and develop. You have the power to help your daughters develop into strong, confident, beautiful human beings – on the inside and out or to become insecure, unhealthy, and negative.
Here's some tips to consider: