During the last 2 months, we've discussed general running guidelines to help you design a running program to prepare you for the local, popular runs including the Girlfriends Run for a Cure that will have thousands of runners and walkers participating from around the Northwest in the next few weeks.
Last week, we reviewed the importance of running technique and discussed how muscle tightness can affect your running mechanics.  So this week and next, we will focus on various mobility and release techniques to keep you running strong and injury free. Today, I'm going to start with wall stretching which is a very relaxing way to release and since most runners are super tight to begin with, they are more likely to do it since it's not so painful!
Complete the following stretching program after each run or workout.  Hold each stretch for at least 30 seconds – ideally longer.  And remember, hold each stretch to the point of tension – not pain!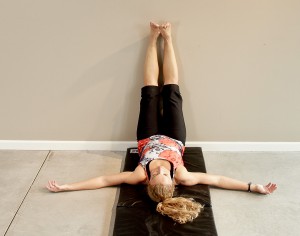 Hamstring on the wall: Lie on your back with your hips close to the wall and your legs positioned straight up against the wall. To make the stretch less intense, move your hips a few inches away from the wall.  To make the stretch more intense, keep your hips positioned right up against the wall and wrap a towel around your feet and lightly pull your legs a few inches away from the wall.  Feel your stretch in the muscles at the back of your upper leg.  Hold this stretch for as long as you feel comfortable – minimum 30 seconds each leg and ideally longer.  Try to relax and breathe in to the stretch.  Feel free to read a magazine or watch T.V. while holding this stretch.  This is a great stretch to do after a run because it assists in the recovery process as blood is flushed from the legs back to the heart. Read the rest of Running Program Week 9