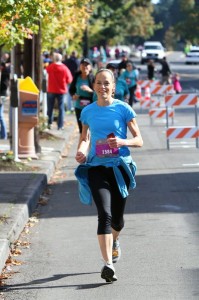 During the last 4 columns we've discussed general running guidelines to help you design a running program to prepare you for the local, popular runs, the Portland Marathon and the Girlfriends Run for a Cure that will have thousands of runners and walkers participating from around the Northwest this fall.
Today (week 5), I wanted to talk about your feet and how important they are to running.  As you run, the muscles of your feet and lower limb absorb the forces of up to three times your body weight.  So let's say you weigh 150 pounds, that's 450 pounds of force with each stride!  So it's clear that the foot is important but very few people actually work on strengthening their feet and even though it's one of the most important areas for runners, it's the most neglected!
Here's some tips to strengthening your feet and many you can do anywhere so shouldn't take extra time:
Towel Crunches:
Lay a towel flat on the floor in front of you.  Place your bare feet on the towel edge closest to you and then curl your toes pulling the towel closer and closer to you.  Continue this exercise for a couple minutes. It's an easy one to do while you're watching TV or reading.  Some runners will do this in the shower with a wet towel making it heavier and more challenging.
Ball Curls:
Take a small soft ball like a Hacky Sac and squeeze your toes around the ball.  Continue for 1-2 minutes.
Toe Taps: