Achieving Your Goals and Dream Life – Step Six
Surround Yourself with Amazing People
We have so far discussed 5 critical steps to achieving your goals and dream life.  If you've missed the series, it would be helpful to go back and review what we've covered so far.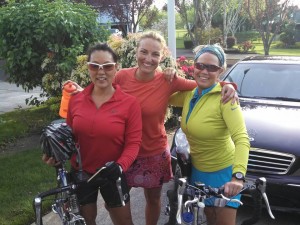 I am 100% confident that today's step "Surrounding yourself with Amazing People" is one of the keys to the life I live.  I feel incredibly fortunate to have an amazing group of friends who like to participate in events and activities with me. Then it made me think that that's what absolutely everybody needs!
If you want to be great, you have to surround yourself with great people. 
You are who you hang with – it's called contagism – it rubs off!  If you want to be healthy and active, surround yourself with active and healthy people.  If you want to commit to eating a healthy diet, surround yourself with people who are also committed to that.  If you want to travel the world, surround yourself with others that have that adventurous spirit.  If you want to finish a triathlon, start hanging out with triathletes.  If you want to succeed in your career, find a mentor who has achieved great successes who can guide and direct you.  If you want to have a healthy relationship with your partner, surround yourself with friends who put their relationships first so they can offer a positive role model.  Bottom line – you are who you hang with!  So if all your friends sit around cursing and gossiping about others, you'll find yourself doing the same.  If all your friends cheat on their spouses, then you may find yourself overstepping boundaries.  If all your friends are happy to live a mediocre life, you'll find yourself settling also.  If all your friends are unhappy about their jobs and sit around complaining about it all day instead of doing something about, you'll do the same.  If all your friends drink, eat pizza and chicken wings and sit around watching TV all day, that's probably what you will do as well.  And don't get me wrong, I enjoy living it up as well but, my friends and I all understand, we've got to earn it first!
Everybody needs people in their life who inspire them, challenge them, build them up, empower them, support them and encourage them to reach for their potential, their personal best, their dreams.
The opposite happens if you surround yourself with those who are negative, critical, and controlling and who steal your job and tear you down.
Some people will pull you up and others will pull you down – it's your decision who you will give your time to.
It doesn't necessarily mean you have to Read the rest of Achieving Your Goals and Dream Life – Step Six